V poslední době jsem intenzivně studovala práci Olivera Caviglioliho. V minulosti jsem vídala jeho edukační infografiky (např. zde), jejichž jednoduchá estetika a vysoká informační hodnota mě pokaždé fascinovaly. Chtěla jsem se o jejich autorovi dozvědět víc, a tak jsem si poslechla všechny podcastové rozhovory, které jsem s ním našla. Tato "posedlost" vyvrcholila nákupem knihy Dual Coding with Teachers, jejíž čtení je čistá radost a já bych si přála, aby všechny naučné knihy vypadaly takto. To, jak je kniha strukturovaná, jak snadno se v ní člověk orientuje, a jak je nabitá užitečnými informacemi a zároveň prosta všeho balastu, mě donutilo znovu intenzivně přemýšlet o podobě obsahu, který svým studentům z pozice učitele zprostředkovávám já.
Přemýšlela jsem nejen o obsahové náplni svých hodin, ale také o vizuální stránce všeho, co svým studentům předkládám. Vyzkoušela jsem nové věci, některé se osvědčily a už jsem u nich zůstala. Kombinace Oliverových myšlenek a těchto mých praktických zkušeností tvoří jádro tří článků série Učitel jako designér informací. První dva články mluví zejména o obsahové estetice, struktuře a střízlivosti, poslední potom propojuje tuto myšlenkovou čistotu s čistotou grafickou.
Designér informací
Designér informací je slovní spojení, kterým se označuje sám Oliver Caviglioli, když se ho někdo zeptá na to, co dělá. Přijde mi to jako velmi trefné slovní spojení a oceňuji, že si ho Oliver nenárokuje, ale naopak říká, že designérem informací je úplně každý učitel. Učitel jako designér informací vědomě promýšlí, jaké informace vybrat, a jak je studentům předkládat graficky zpracované, aby došlo k většímu upevňování a zapamatování.
Proč je dobré přemýšlet o podobě informací, které svým studentům předáváme?
Jako učitelé jsme zároveň experty v námi vyučovaném předmětu. Někdo větší, někdo menší. Většinou ale víme o dané problematice mnohem více, než naši studenti a oborem se zabýváme už tak dlouho, že si vůbec nedokážeme představit, jaké to je, být v něm začátečník nebo něčemu nerozumět. Říká se tomu past expertní znalosti.
Jak do této pasti nespadnout?
Je užitečné ocitnout se čas od času v roli studenta. Zajít na přednášku k tématu, o kterém nic nevím, začít se učit nový cizí jazyk, podívat se na vysvětlující video na YouTube.
Jedna z analogií, kterou Oliver používá, aby nám učitelům pomohl představit si jaké to je, být v našem předmětu úplným nováčkem, je tato:
Učit se nové téma je jako poprvé přijet do neznámého města. Když se člověk ocitne v novém městě, nechce, aby mu jeho průvodce podrobně vyprávěl o každé ulici. To by se za chvíli cítil zahlcen a z města jako celku by nic neměl. Mnohem lepší je načrtnout jednoduchý plánek, vyznačit tam hlavní pamětihodnosti a ukázat, kudy společně půjdeme.

Oliver Caviglioli
Toto bychom měli mít stále na paměti a dělat maximum, abychom byli pro naše studenty co nejsrozumitelnější a abychom jim předávali výborně strukturovaný obsah.
Jakým způsobem toho můžeme docílit?
Pojďme se podívat na čtyři obecné zásady, jak si utřídit nesourodou změť myšlenek, které v hlavě k danému tématu máme. Zásady jsou aplikovatelné pro plánování jednotlivých hodin, tematických celků, nebo i celého školního roku. Pracují na předpokladu, který trefně vystihla profesorka psychologie Barbara Tversky:
Zacházejte s jednotlivými myšlenkami, jako by to byly fyzické objekty.

Barbara Tversky
Metoda 4S – Jak si ujasnit myšlenky a být srozumitelným navenek:
Sesbírat (Collect) Sesbírejte všechny myšlenky, které k danému tématu máte. Dokud to neuděláte, nikdy nebudete schopni vidět dané téma v celé jeho šíři. Co myšlenka, to jeden lepicí lísteček. Na každém lístečku může být slovo, slovní spojení, nebo věta.
Seškrtat (Cut) Myšlenky roztřiďte. Když se na všechny vaše myšlenky podíváte, můžete vidět, že se třeba některé duplikují. Duplikáty vyřaďte.
Seskupit (Chunk) Vytvořte skupiny. Dejte k sobě lístečky, které spolu tematicky souvisí. Toto je přesně ten moment, kdy naše změť myšlenek přestane být zahlcující. Pro každou skupinu vymyslete zastřešující název.
Seřadit (Chain) Seřaďte jednotlivé skupiny a spolu s nimi i vaše myšlenky do logické řady.
Můžeme to samozřejmě dělat online, pomocí nejrůznějších nástrojů pro tvorbu myšlenkových map nebo např. v jamboardu. Ale z vlastní zkušenosti musím říct, že je daleko víc uspokojující, pokud člověk může s lístečky fyzicky hýbat, odstoupit od nich, podívat se na ně jako na celek a znovu s nimi hýbat.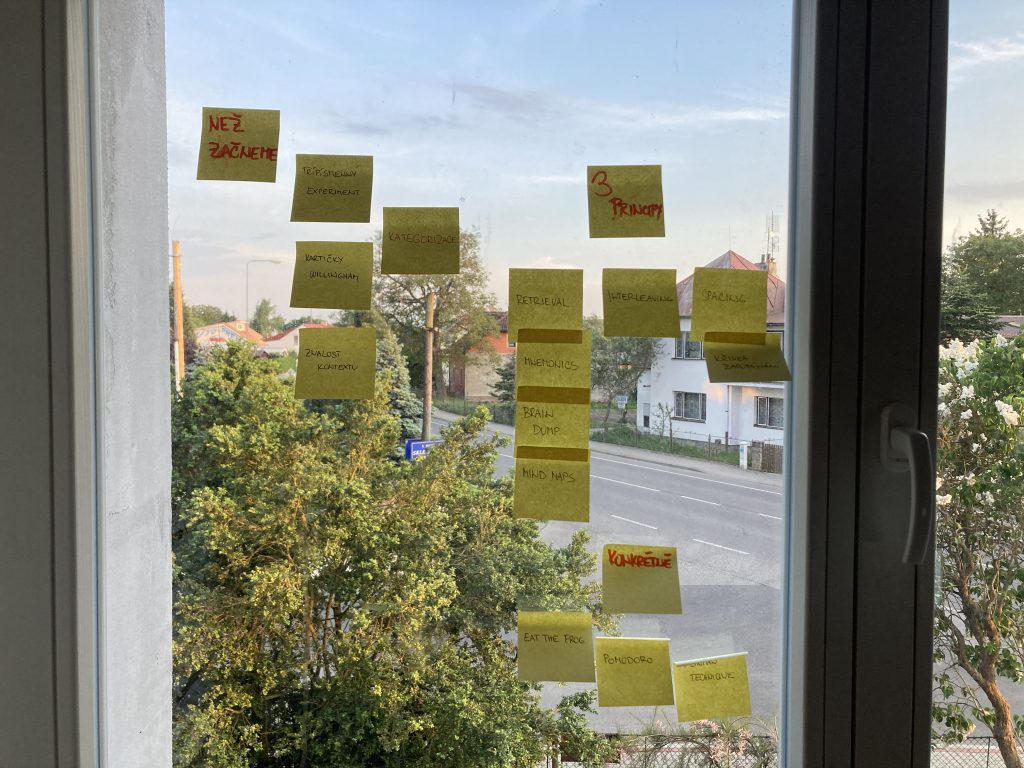 Co s tím dál?
Jakmile máme naše téma tímto způsobem naplánováno, byla by škoda, kdybychom si tento myšlenkový proces nechávali jen pro sebe. Může totiž usnadnit orientaci i našim studentům během výuky. Pomocí jednoduché grafiky, nebo prostě pár vět na začátku hodiny můžeme neustále zvědomovat, kde jsme teď, kde jsme byli a kam míříme, abychom to věděli všichni, ne jen my jako učitelé. Vědět, jaké kroky jsou za námi a před námi je zároveň nutnou podmínkou formativního hodnocení.
Zde se můžeme inspirovat e-shopy. Většina z nich má skvěle zvládnutou jednu velmi užitečnou věc. Poté, co klikneme na košík a chystáme se něco opravdu koupit, vidíme většinou graficky zpracovanou cestu, kterou musíme projít, aby byl celý nákup úspěšně dokončen. V každém kroku vidíme, kde jsem, co máme za sebou, a co nás ještě čeká.
V tomto článku jsme se zabývali tím, jak si utřídit myšlenky, které máme v hlavě, do smysluplného celku. V následujícím článku se podíváme na to, jak takto utříbené myšlenky organizovat či kategorizovat, a proč je dobré se tomuto procesu věnovat.
Chcete si poslechnout nebo přečíst víc?
Zdroje:
Shooting Azimuths: In Conversation with Oliver Caviglioli
Conceptually Speaking: Oliver Caviglioli Talks Metaphors, Design, and Visual-Spatial Thinking
The Teaching Space: An Interview with Oliver Caviglioli
ERRR: Oliver Caviglioli on Information Design
Dual Coding with Teachers
Tips for Teachers: David Goodwin